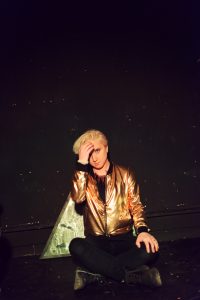 Subscribe to the Darling Fitch Patreon
What is Patreon?
An online platform where fans/patrons can support artists in exchange for exclusive access to their artistic output.
You can set up an account for free to "watch" my page – I release a fair amount of free content like music, poetry and videos.
Paid access to content starts at $2 (approx €1.72) per month and gets you immediate access to all previously released work in that bracket on Patreon and all material in that bracket going forward.
You can also still buy copies of my book/album A Stranger Sound via my webshop!
Not sure? Subscribe to my mailing list to get access to free content and updates on everything from my touring schedule to my latest releases.
THANK YOU ALL SO MUCH FOR YOUR SUPPORT, IT MEANS THE WORLD TO ME!!!   
– – – –